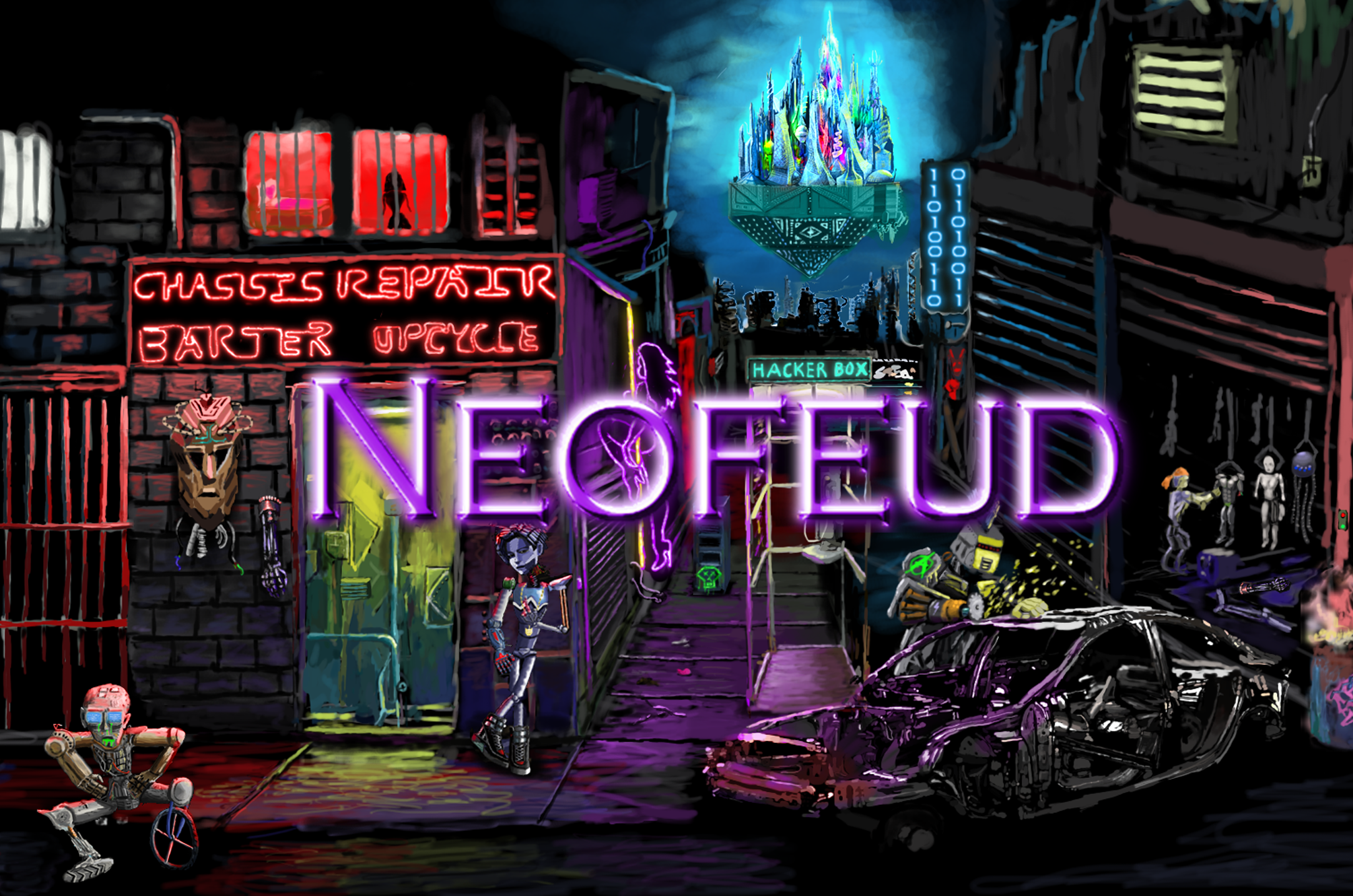 Neofeud
A downloadable game for Windows and Linux
Neofeud is a Dystopic Cyberpunk adventure game in the vein of Blade Runner, but with an overlay of Game of Thrones-like political intrigue, and 1366x768, hand-painted, stylized visuals.
Synopsis:

2033 - We create AI. Sentient robots arrive, but not as our Terminator overlords or our Singularity saviors -- conscious machines are humanity's unwanted bastard children. A few are geniuses who design flying cars, beat cancer, invent teleportation, but millions of defective prototypes roll out of factories -- mentally challenged, motivationally-challenged, criminally-inclined. Legally conscious, but unhirable, these "Defectives" are shuffled through public housing and welfare assistance, straining the already overburdened back of the meager social safety net. The robots who don't end up in prison are dumped, as a last resort, into a massive landfill known as "The Pile".
Humans engage in perfection of their species -- or at least the powerful and well-connected -- genetically engineering children with human and animal DNA. The failed eugenics experiment "Frankenpeople" are discarded into "The Pile" as well. The new dynasties, 'Neofeudal Lords', live in towering neon glass castles, shuttle around in pristine nanotech-enabled pods, minds and bodies full of cyberware, spending most of their time taking selfies and "optimizing their monetization schemes". A race of supermen concerned only with their own status, their prestige, their success. Where machines have become all too flawed and human, people have become flawless, perfect, cold machines.
Karl Carbon is an ex-cop, dishonorably discharged from Coastlandia PD for disobeying an order to shoot an unarmed sentient humanoid. Karl is exiled to "The Pile" as a lowly social worker. There he counsels gangbanging foster-kid robots and confiscates chimera-children from deadbeat half-wolf parents. Till one day a case goes horribly sideways and Karl is drawn into a sordid conspiracy that could threaten the strained fabric of Human-Robot-Hybrid civilization -- or save it.
FEATURE TIME

15+ hours of gameplay.
An original dystopic sci-fi world and story that will (hopefully) make you question some of your core beliefs. Or at least my sanity
Tricky yet satisfying, point-n-click detective work, interspersed with tense action shootouts.
Handpainted, uber-gritty, noir futureland. Makes Mad Max and Rick Deckard crap their pants.
Endless bombardment of witty one-liners from hardboiled cyberpunk.
PRESS
"An immersive cyberpunk adventure game... Echoes of H.R. Giger and William Gibson... [Christian Miller] knows what makes a quality game." --Brandon C. Hovey
"A Diamond Of Storytelling In The Scrap Pile [...] the characters of Neofeud are developed so much more than characters in nearly any other game I've recently played --Sprites And Dice

"An ambitious, atmospheric cyberpunk scenario and essentially the work of a single person (voice acting excluded). Oh, and it might also be one of the best adventure games I have played in a while... The world building is something else. It has a thickness, a density to it." --IndieGames.com
Gaming Respawn: "I loved the ...quirky but fantastic hand-painted visuals, the gruff, cynical humour, and the fact that I adore old-school point-and-click adventures."

Meet The Creator -- An in-depth interview with Neofeud's Creator, Christian Miller
TROUBLESHOOTING

1. The game crashes during the fight with "The Artist".
This is a known issue that I am working on a fix for in the next version. For now, try setting your sound, voice, and music volumes to the default level (about 80%) and it should be fixed.
2. I'm having trouble downloading the game.
If you have difficulty downloading Neofeud, try Google Chrome. There may be issues with Firefox.

3. I'm stuck in the game, is there a walkthrough?

Check out the Neofeud - 'Let's Play' Walkthrough series.
We're a little volunteer army working out of Section 8 and plumbing-free microhomes, so please consider donating through Patreon! You'll receive the shoutout as an official "Neofeud" patron and receive the backstage-pass to our latest material.

| | |
| --- | --- |
| Published | 2 years ago |
| Status | Released |
| Platforms | Windows, Linux |
| Release date | 209 days ago |
| Rating | |
| Author | silverspook |
| Genre | Adventure |
| Tags | 2D, Cyberpunk, Dystopian, Hand-drawn, Noir, Point & Click, Robots, Sci-fi, Story Rich |
| Average session | About an hour |
| Languages | English |
| Inputs | Keyboard, Mouse |
Purchase
In order to download this game you must purchase it at or above the minimum price of $9.90 USD. Your purchase comes with a Steam key. You will get access to the following files:
Neofeud Version 1.1 (Alternate Download)
1 GB
Neofeud Version 1.3 (Linux)
Neofeud Bonus Content.zip
175 MB
if you pay $13.19 USD or more
Download demo