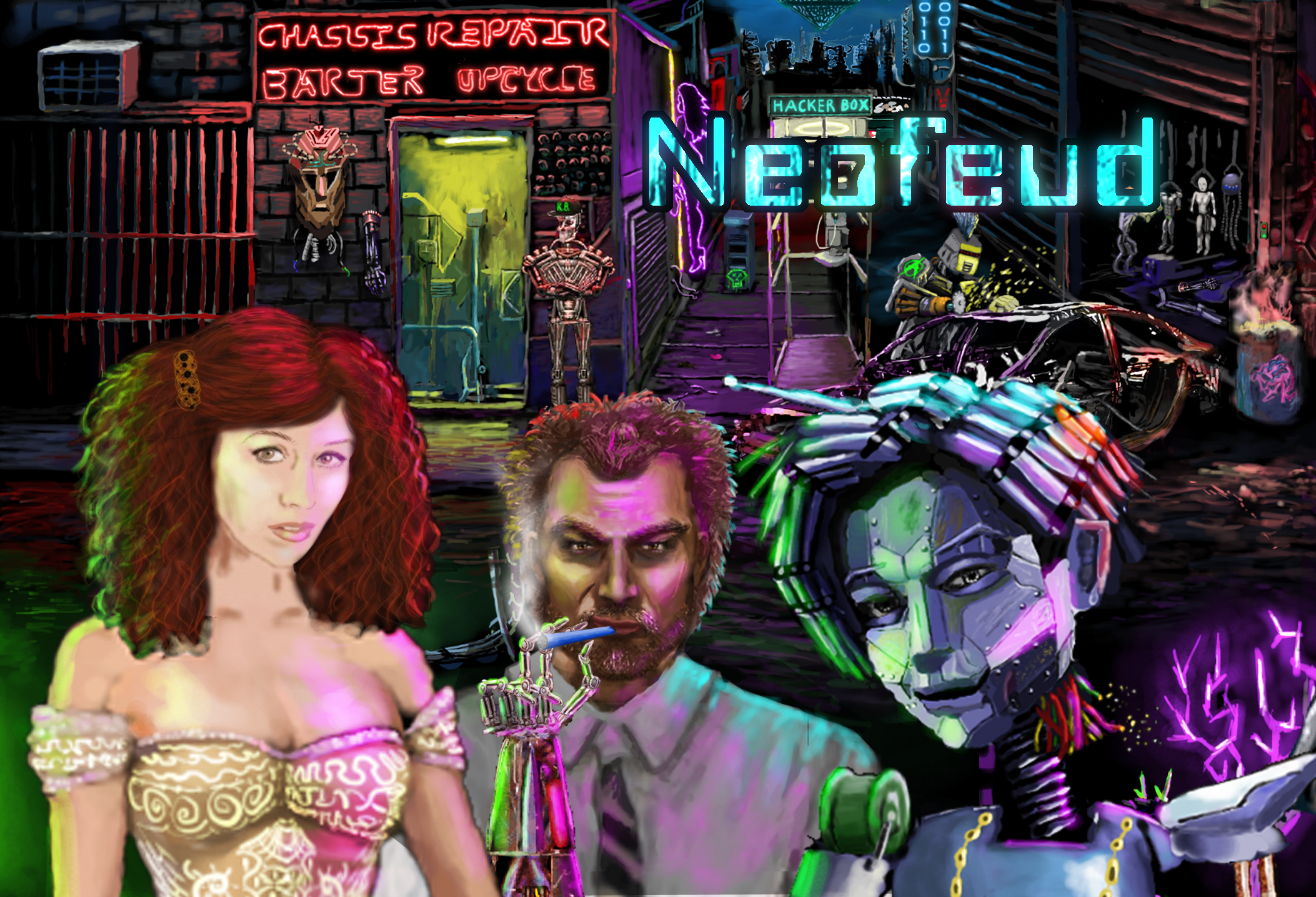 Neofeud
For Thanksgiving, a game by a homeless indigenous person is on sale :)
---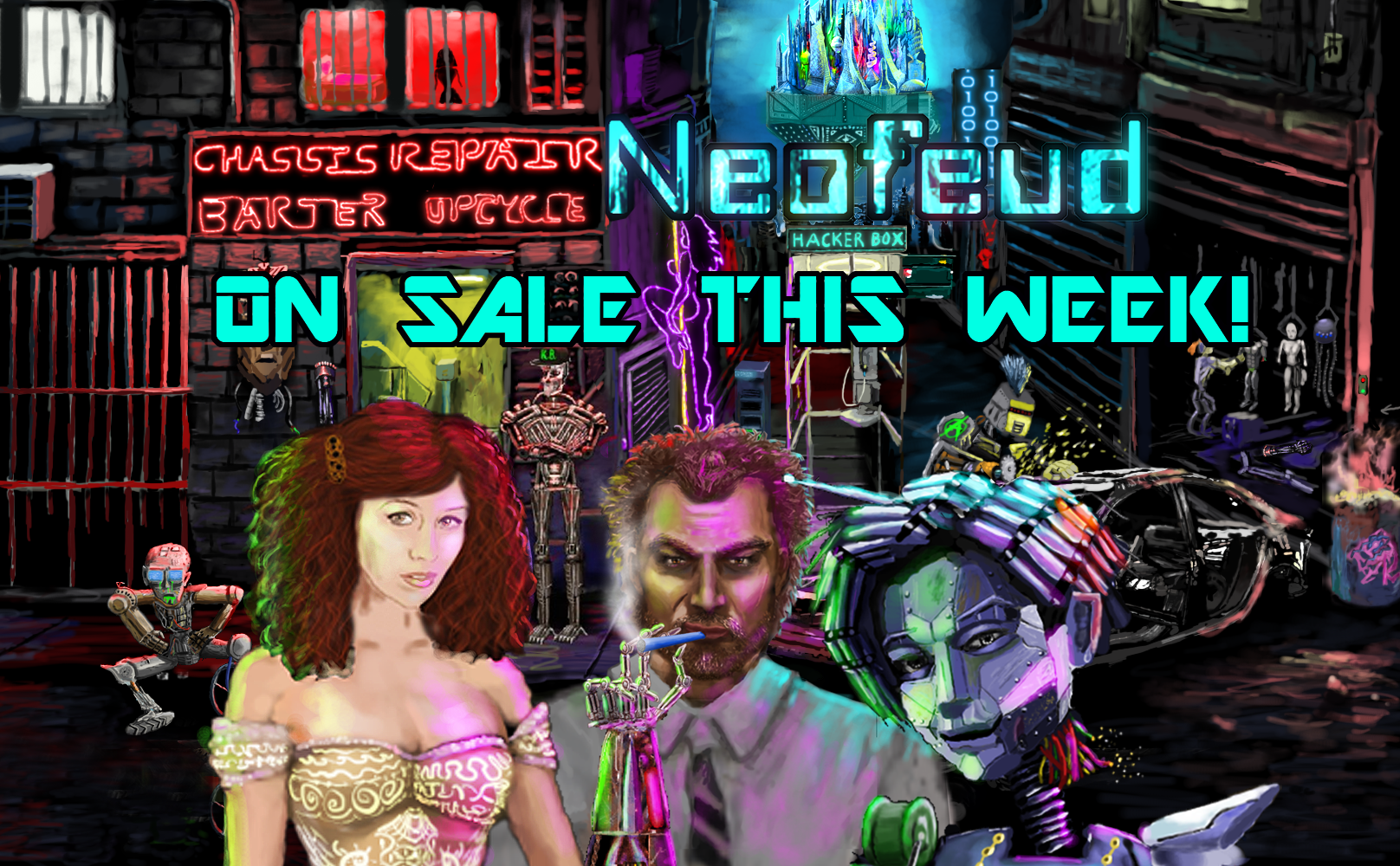 The only cyberpunk game where a social worker for homeless robots takes on a cabal of billionaire CEO-Kings :) Neofeud's on sale!
Here's a recent review:
"Two things right off the bat:
1) This is game is WEIRD AS F$!@
2) I absolutely loved it!
Fun and hugely engrossing gameplay for a single developer game!
Pros
------------------
-Cool main characters! Even the background characters added alot to the atmosphere of the game.
-Well designed animation and backgrounds. The artwork has kind of a Mission Critical/Harvester/Darkseed vibe to it that I enjoyed but may not be everyones cup of tea. They really put you in a cyberpunk futuristic mindset and meshed well with the story of the game.
-Excellent writing . This game definetly satisfied my cravings as a big sci-fi/cyberpunk fan. Interesting use of cyperpunk
tropes and existential philiosopy.
-Certain scenes were really engrossing and felt like i was watching a movie. (Vistiting the Arcade and Proto-J coming to terms with his father stand out especially)
-Awesome music (2017 AGS awards winner for Best Music). I'd strongly consider buying the standalone soundtrack
-Point and click puzzles are challenging yet mostly logical
-
Cons
--------------------
-Setting up graphics settings in adventure game studio was a pain.
-Voice acting was hit or miss for me. I enjoyed Proto-J despite what other reviewers said. Other characters came off lacking emotion in certain cases. Some recordings of voices didnt sound like they were done in a professional setting (Goetzel at times sounded like he was being recorded in an office or something)
-Minor glitching and bugs (overall pretty stable though) that required a restart or two
-Certain in game interfaces have a clunky appearance (OK and EXIT buttons that don't fit the overall game aesthetic)
-Action/stealth sequences rough around the edges
-Animations can be a little "stiff" at times. Character movements can be awkward.
-Walking routine can be slow for larger scenes.
The cons overall I would say are just roughness around the edges and I attribute to the clunkyness that can come with a game designed on Adventure Game Studio. And I can hardly place blame for these minor issues considering the overall work that went into this game by a SINGLE developer.
You can tell that this game was a labor of love and it really shows in all the pros it has going for it. Again, it's very impressive AGS game from a single developer! Overall length came in about 10 hours which for someone that picked it up half off was a good value. This game is frequently on sale and I'd say you'd have no regrets picking it up if your a fan of sci-fi point and clicks! I am definetly looking forward to the sequel. If Neofeud 2 is every bit as ambitious as this one it will be a must purchase for me!!
And like the game says:
Remember, winners don't use drugs... Mostly;)~"